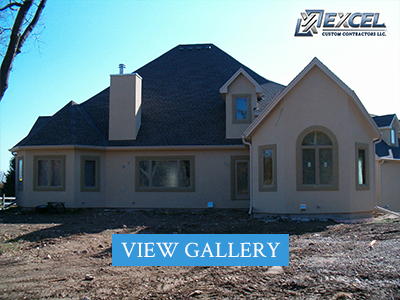 Your roof is more than the shingles!
When you contract us to do your roof you will receive a 'Complete Roofing System'.
Your roof system starts not with the shingles, it starts under the roof structure. Two of the most important components to any roofing project are the ventilation requirements and the quantity and quality of insulation. If these two components are not properly installed and to the minimum code requirements your entire roof could be out of warranty and potentially cause premature failure to the entire structure.
We will provide an accurate and honest assessment of your homes requirements and individual need evaluation to ensure that your roof structure is well protected for many years to come. After the initial attic inspection we will attempt to assess the roof structure, including all visible framing members and wood decking for any defects, water, mold or mildew damage. At this point we will move to the exterior to identify what products and services would best fit your particular needs.
On all of our 'Complete Roof Systems' we will include the following components:
Leak Barrier – Grace Ice & Water or GAF-ELK Weather Watch.  These initial components provide exceptional protection against leaks caused by roof settling and extreme weather.  We apply the Leak Barrier to all eaves to achieve code compliance, in all valleys, up on to side walls, around dormers, chimneys and skylight penetrations.
Roof Deck Protection – Traditional 15# or 30# felt, GAF-ELK Deck Armor or FelTex Synthetic underlayment.  This is the product covers the majority of your roof surface and therefore is an integral aspect of your system, however it is the most over looked in its function and purpose.
Starter Strip Shingles – Pre-cut or rolled products available.  This the initial 'shingle' that in applied to ALL your roofs edges including, eaves, gables and dormers.  By providing an additional adhesive strip to help lock down your shingles, it is the first measure of protection against blow offs.
Roof Shingles – GAF-ELK, Owens Corning, CertainTeed, IKO and Decra.  Depending on your specific look desired and warranty requirements we have the right product line and type to meet all your needs from high definition architectural shingles, metal or stone coated steel panels.
Ventilation Exhaust Components – Air Vent, Master Flow or Cobra.  We will at this point install the appropriate components required to achieve your roofs proper ventilation to help remove excess heat and moisture from attic that can raise your energy bills, cause premature peeling of paint, wallpaper, roof deck sags or mold/mildew.
Ridge Cap Shingles – Timbertex or Seal-a-Ridge.  The final component to your roof system is the cap shingle.  This product 'finishes' off the entire system by enhancing the overall design and appearance, adds additional protection against blow offs and the prevention of water entering at the highest elevation of your roof.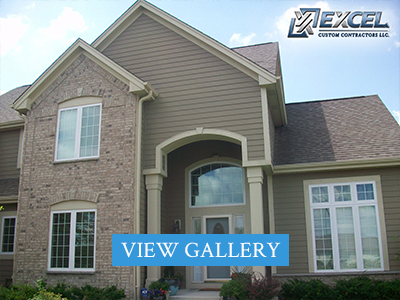 Certainteed Fiber Cement Siding
Environmentally Friendly Siding
CertainTeed FiberCement Siding products are manufactured using 30% post-industrial recycled fly ash. This helps our environment by diverting more than 50,000 tons of fly ash from landfills every year. The water used in Certainteed's manufacturing plants is also recycled, resulting in a yearly savings of more than 1.5 billion gallons of water. These qualities, in addition to the durability of CertainTeed FiberCement Siding, make this product an excellent choice for your home and for the environment.
Durability
Enjoy the lasting features and handsome appearance of wood without all the upkeep. The real difference between CertainTeed FiberCement Siding and similar products is in the material. It's stronger and built to take on the elements (and then some).
Higher interlaminate bond strength means superior freeze/thaw protection
FiberTect® Sealant/Primer protects against damaging moisture
Resists everyday bumps and harmful impacts
50-year limited transferable warranty
Fiber Cement Siding Features
FiberCement Siding consistently outperforms wood and other siding. The superior technology of WeatherBoardsTMand ColorMaxTM offers the strongest, most durable fiber cement siding in the industry.
Deeper, more genuine wood grain
Consistent quality and excellent dimensional stability
Class 1 (A) Fire Rating
Impervious to wood-boring insects
Resists damaging effects of salt spray and UV rays
Will not rot
A variety of cedar lap siding, decorative shapes and soffit to match virtually any design style