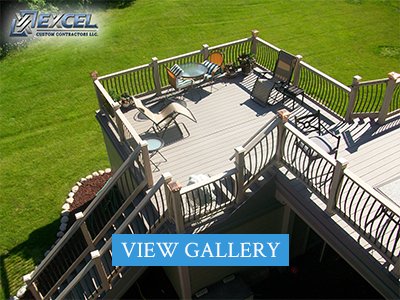 Large or small, attached or free-standing, even elevated or enclosed, we've worked on many deck projects. Take a look at what we can do for you!
MoistureShield Decking
This is a truly 'Green' decking product.
Get to know our unique recycling process with a few green FYI's:
LEED for Homes (v1.11a) awards points to projects for using Environmentally Preferable Products like MoistureShield® Decking.

Section MR2-B provides 0.5 point for including a deck containing 25% post consumer recycled content

MoistureShield decking and accessories are made with:

30% Post-consumer recycled content
60% Pre-consumer recycled content
90% Total recycled content

MoistureShield has a post-consumer recycled content equivalent of 60% or about two-and-a-half times the requirement.
Double Points: USGBC staff have suggested that builders request an additional 0.5 point for innovation and going beyond the requirements based on MoistureShield's high post-consumer recycled content.
Conserves resources for the future.
No new trees are cut down to make MoistureShield Decking.
Our process stops over 270 million pounds of trash from entering landfills every year – that is 36 football fields of trash, each stacked 10 ft. high!
We save over 5.3 trillion BTUs of energy per year.
We are concerned with skyrocketing gas prices as much as you. Our process saves 1 million gallons a year.
Not only does a 12´ x 12´ MoistureShield deck save 110 gallons of gas, but it also reduces greenhouse gas by 619 lbs. CO2 equivalent.
The plastic and wood A.E.R.T. recycles annually is comparable to taking 54,000 vehicles off the road.
Green & Recycling Awards
Plastic Recycling Award – Society of Plastics Engineers – 2007
Partnership for Environmental Excellence Award – EPA – 1999
Corporate Recycler of the Year – Recycling Coalition – 2005
Green Building Conference Special Appreciation – 2004
Partners of Parks Environmrntal Contribution Plaque – 1999
Wood Award – Sierra Club – 1995
Global Plastics Environmental Conference – Plastics recycling – 2007